M.B.B.S. (KEMC) Dip Derm (U.K) M.Sc. in Dermatology (U.K) FASDS (U.S.A.) Fellow, American Society for Dermatologic Surgery (U.S.A)

Dr. Saima Malik with her 8 years of experience in general as well as cosmetic dermatology and cosmetic dermatologic surgery, is considered to be one of the best female dermatologists and skin specialists in Lahore. She has spent more than 8 years not only in general dermatology for skin disorders but has literally performed thousands of procedures in lasers and aesthetic dermatology which are probably more than most other dermatologist in the country, Alhamdulillah.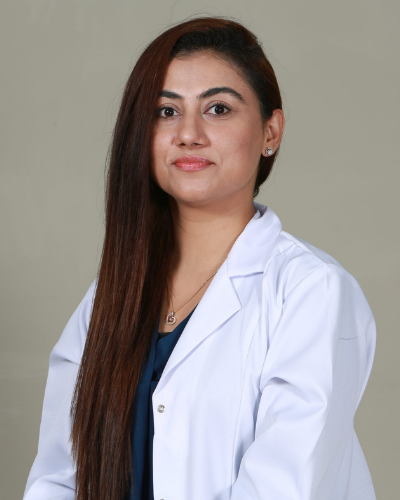 Dr. Saima Malik graduated from King Edward Medical College Lahore, one of the most esteemed and distinguished medical institutions of Pakistan in 2003. After completing her medical School , Dr Malik decided to pursue her career as primary care practitioner (PCP) to quench her thirst for providing essential medical care to general population including disease diagnosis prevention ,management for four years. This broad field of medicine practice led her to acquire knowledge and expertise in the field of diagnostic imaging including ultrasound ,X-ray and computed tomography etc., which later helped her to sharpen her skill in the venous disease and its ultrasound guided treatment during her dermatology training.
Dr. Saima Malik commenced her journey of learning and specialty training in this particular field of dermatology after realizing her aesthetic sensibility and desire to be a revolutionary dermatologist. She has acquired her advanced training in dermatology, dermatopathology, laser & cutaneous surgery during her vast 9 years of experience under the mentorship of Prof. Dr. Azim J. Khan, at Cosmetique Institute. She has the postgraduate qualification in the field of clinical dermatology (Pg Dip) from Cardiff university UK, the world 's well renowned dermatology institution. After successfully completing her PgDip in clinical dermatology, she applied to progress to Cardiff University one-year MSc in Practical Dermatology. Her main interest and thesis topic in her masters was venous diseases in skin, varicose vein treatment, USG guided sclerotherapy, lasers, and cosmetic dermatology surgery. Her background knowledge for imaging field particularly ultrasound gave her an edge to understand and then master this critical and challenging topic in dermatology under the kind supervision and guidance of Dr Azim. Dr Malik also presented a scientific paper in international conference of dermatology in Dubai based on venous insufficiency and its latest laser treatment innovations.
Another feather in her cap is her selection for the fellowship program in American Society of Dermatologic Surgery (ASDS) in Pakistan by Cosmetique Institute. ASDS accreditation confirms and recognizes cosmetic dermatologic surgery fellowship programs that meet high-quality standards. The accreditation program also promotes practices that provide Fellows with the proper training and expertise to perform cosmetic dermatologic surgery procedures.
One of the reasons why. Dr. Saima Malik is considered to be the the best female skin specialist dermatologist in Lahore, Pakistan is her impeccable training portfolio with her mentor Prof. Azim Janahgir Khan who is considered to be one of the most qualified and the best skin specialist and dermatologist in Lahore, Pakistan , as he has quadruple certifications in Internal Medicine, Dermatology, Wound Healing and Cosmetic Surgery from some of the finest universities and hospitals in the United States Alhamdulillah. Even by U.S., standards these are extra-ordinary accomplishments for any dermatologist to have.
No doubt, this extended education along with this extensive dermatologic surgery training gives her dominion and sway on lasers & advanced dermatology medical procedures in facial and body rejuvenation. She works hard in helping patients to understand their desires and goals in terms of aesthetics and art of beauty, therefore all procedures are customized based on their individual desires, personality and features while maintaining their respect & confidentiality. Her passion is to provide the highest level of attention to detail combined with revolutionary laser gadgets, scientific & logical treatment plan, an artistic eye, and compassionate care without changing the natural look