Medicine, Dermatology & Vitiligo Surgery
Education
M.B.B.S. (Pb); M.D. (U.S.A.); M.A.C.P. (U.S.A): Dip. Derm (U.K.) Diplomate, American Board of Internal Medicine Member, American College of Physicians Diploma in Dermatology (UK)
Dr. Asma did her M.B.B.S. from Allama Iqbal Medical College, Lahore, and then proceeded to the United States to specialize in Internal Medicine. Internal Medicine is the field of medicine that deals with all the medical aspects including but not limited to high blood pressure (hypertension), diabetes (sugar), high cholesterol, thyroid problems, sore throat, fever, arthritis, and preventive medical checkups to remain in good health. She performed a residency in Internal Medicine from Cook County Hospital in Chicago, U.S.A, and continued to work as a Consultant Medical Specialist in Long Island, New York (U.S.A.). Dr. Asma is certified by the American Board of Internal Medicine and is one of the very few female doctors in Pakistan who have achieved this level of competence in medicine.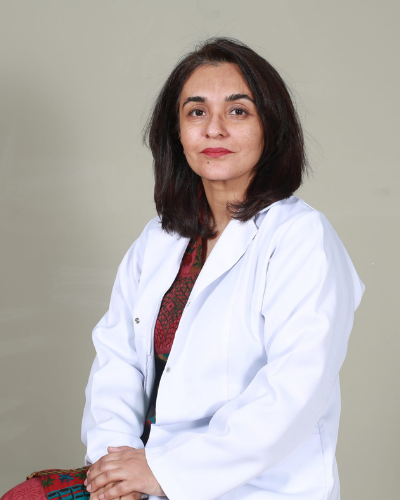 Her interest grew in the field of Dermatology as about 25-30% of patients seen in the general medical clinic present with problems concerning the skin. Also, being a female, the interest in the cosmetic aspect of medicine was natural, and she continued to innovate and implement many new ideas at
Cosmetique®
. In addition to the use of lasers for different skin conditions and hair removal, she has a very special interest in the Melanocyte Transplant for Vitiligo and specializes in the very intricate laboratory technique to harvest the melanocytes from normal skin. This tedious procedure is performed in a special laboratory setting using special chemicals and techniques that require patience, dedication, and specialized training that Dr. Asma has achieved over a number of years. This highly specialized laboratory technique is possessed by a select few doctors in the world. Moreover, being the executive director of Cosmetique ®, she is a big proponent of the safest sterilization and quality medical care in Pakistan and leaves no stone unturned to keep Cosmetique® at the cutting edge from technological advancements to the highest standard of safety by ensuring the highest quality pre-operative and post-operative care, that she personally ensures before and after every surgical procedure. In fact, most of our patients are pleasantly surprised and astonished by the personal attention given to them in the before and after surgery period by an American Board Certified Internist every minute of their stay at Cosmetique®, until they are discharged to go home. And that is exactly what we strive for; the best quality of services given by some of the most blessed and qualified hands in the world.