Dermatology & Cosmetic Surgery
Education
M.B.B.S. (Pb), Dip Derm (U.K), M.Sc. in Dermatology (U.K), FASDS (U.S.A.) Fellow, American Society for Dermatologic Surgery (U.S.A) Certified Obesity and Weight Management Expert
Dr. Amnah Raj with her 16 years of experience in general as well as cosmetic dermatology and cosmetic dermatologic surgery, is considered to be one of the best female dermatologists and skin specialists in Lahore, Islamabad & Karachi Pakistan. She has spent more than one and a half-decade not only in general dermatology for skin disorders but has likely performed more procedures in lasers and aesthetic dermatology than any other female dermatologist in the country, Alhamdulillah.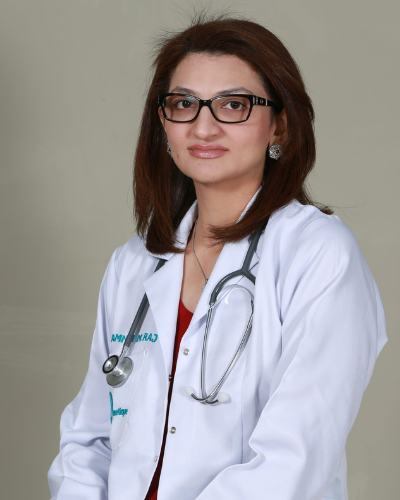 Considered to be the top female skin specialist in Lahore, Pakistan, Dr. Amnah Raj is the only American certified dermatologic and cosmetic dermatologic surgeon in all of South Asia with the accredited training in cosmetic dermatology and dermatologic surgery that is dually certified by the American Society for Dermatologic Surgery in the United States. Dr. Amnah Raj started her career in dermatology in 2005 at Cosmetique when she started her training in dermatology with Prof. Dr. Azim Jahangir Khan as one of his first trainees as he returned to Pakistan from the United States in 2005. Dr. Amnah Raj completed her M.B.B.S., from Fatima Jinnah Medical College in Lahore. Fatima Jinnah Medical College is considered to be one of the best medical colleges in Pakistan and is an all-female medical college, just like some of the premiere all-female colleges in the US, like Barnard College in NY, Wellesley College in MA, or Bryn Mawr College in PA.
Having a keen interest in Dermatology she embarked on her journey of learning and specialty training at Cosmetique Institute 16 years ago. She worked as a house office in Ganga Ram Hospital under the supervision of Prof. Azim and moved to Institute Cosmetique subsequently and continued her training with him. At Institute Cosmetique, she completed her Dip derm in Dermatology, followed by M.Sc in Dermatology, and was awarded both certifications by Cardiff University. She then continued to refine her training and skills in dermatologic surgery and cosmetic dermatology by completing a fellowship in these fields approved by the American Society for Dermatologic Surgery (ASDS) as the first-ever fellow in Pakistan who is awarded this fellowship in any Pakistani institution by American society for Dermatologic Surgery.
In Pakistan, the field of dermatologic surgery is not a very well-organized field, as dermatologists do not perform even simple excisions let alone liposuction, hair transplants, and other cosmetic procedures. Dr. Raj had the unique opportunity to work in an environment where she had exposure to General as well as Cosmetic Dermatological surgery from the very beginning. Alongside her post-graduate training in dermatology, she learned first simple and then advanced surgical procedures and continued to do so after finishing her dermatology training. She has continued to learn and polish her skills under the mentorship of Prof. Dr. Azim J. Khan, at Cosmetique Institute. Fueling her passion for dermatologic surgery, she played a dynamic role, alongside Prof Azim J, Khan in developing a structured program of Dermatologic Surgery training at Institute Cosmetique, which is now an internationally recognized program by the American Society of Dermatologic Surgery.
One of the reasons why. Dr. Amnah Raj is considered to be the best female skin specialist dermatologist in Lahore, Pakistan is her impeccable training portfolio with her mentor Prof. Azim Janahgir Khan who is considered to be one of the most qualified and the best skin specialist and dermatologist in Lahore, Pakistan, as he has quadruple certifications in Internal Medicine, Dermatology, Wound Healing and Cosmetic Surgery from some of the finest universities and hospitals in the United States Alhamdulillah. Even by U.S., standards, these are extraordinary accomplishments for any dermatologist to have.
She has the honor of being the first fellow of the International Society of Dermatologic Surgery Fellowship program at Institute Cosmetique, in Pakistan. As an avid learner and emerging physician, her vast experience includes performing both ablative and non-ablative lasers in all skin types especially Type IV and V skin. She has performed more than 50,000 procedures using energy-based devices including Pulsed Dye laser, Nd; YAG laser, Diode laser, Q switched Nd;YAG, CO2 Fraxel, Erbium glass fractionated laser resurfacing, Erbium YAG laser, Alexandrite laser, smooth beam laser, Radiofrequency, Microneedling radiofrequency, and cryolipolysis/coolsculpting. In lieu of honing her skills in the surgical domain, Dr. Raj has assisted and performed over 2000 hair transplant procedures and more than 3000 Liposuction surgeries.
Being the best female hair transplant surgeon in Lahore, Pakistan, she has to shoulder the responsibility of sharing her knowledge with junior doctors and other colleagues. Thus she regularly shares his expertise in cosmetic surgery and hair transplant surgery including the latest FUE technique, hybrid hair transplant, and the use of PRP in hair transplant with his peers by lecturing at national and international conferences and seminars. Considered the best female dermatologist and skin specialist in Lahore she is frequently approached by many media as the best skin specialist and an expert and has appeared on national television.
Related Searches
best female dermatologist in pakistan
top female dermatologist in lahore
top female dermatologist in islamabad
best female dermatologist in karachi for acne
best female dermatologist for hair in karachi
female dermatologist in karachi
female dermatologist in gulberg lahore
female dermatologist in lahore
female skin specialist in lahore
skin clinic lahore
female skin specialist in lahore johar town
female skin specialist in DHA lahore
skin laser & liposuction centre lahore, Pakistan